Organizations are constantly seeking ways to streamline their operations and empower their workforce. Enter Sparkrock 365. We are a cloud-based Enterprise Resource Planning (ERP) system built on the Microsoft Dynamics 365 - Business Central platform. From Finance to Workforce Management, our ERP solution delivers real-time insights, automation, and robust data security, tailored to meet the unique challenges and compliance requirements of Education, Nonprofit and Human services organizations.
Sparkrock customers also get access to a mobile-friendly application called mySparkrock, with accessible features for Finance and HR users on the go. With the release of mySparkrock 2.0 just around the corner, it's a perfect time to review the updates that will make it indispensable for our customers.
What is mySparkrock?
mySparkrock is an online application where employees can update personal information, submit scheduling requests, track time and expenses, and receive relevant notifications. For Sparkrock 365 users, this application fully integrates with our ERP system, reducing the risk of delays and duplicate data entry.
mySparkrock's Functionalities
Whether you're an HR professional, a manager, or part of the Finance team, mySparkrock has something to offer for everyone. It has a wide range of functionalities designed to make critical tasks smoother and more convenient. 
For HR Professionals:
Automated Employee Account Creation: mySparkrock accounts are automatically created for new employees based on employee class, saving you time and effort.
Managerial Insights: Managers can access HR data directly on mySparkrock. This helps them make fast, easy, and effective decisions about upcoming and pending appraisals, pending attendance approvals, pending tasks for direct and indirect reports, and scheduling updates.
Self-Serve Access for Employees: Reduce administrative overhead by providing self-serve access for employees. Users can update profile information, see attendance balances, make time off requests, complete assigned tasks, review qualification and training details, view benefit plan details, view pay statements, and download tax forms.
For Finance:
On-the-Go Expense Claims: This feature allows users to submit expenses for reimbursement anytime, anywhere, streamlining the expense management process.
Convenient Receipt Attachments: With mySparkrock, users can take photos or upload images directly from their mobile devices as receipt attachments. This reduces paper clutter and ensures that all necessary documentation is easily accessible for auditing and compliance purposes.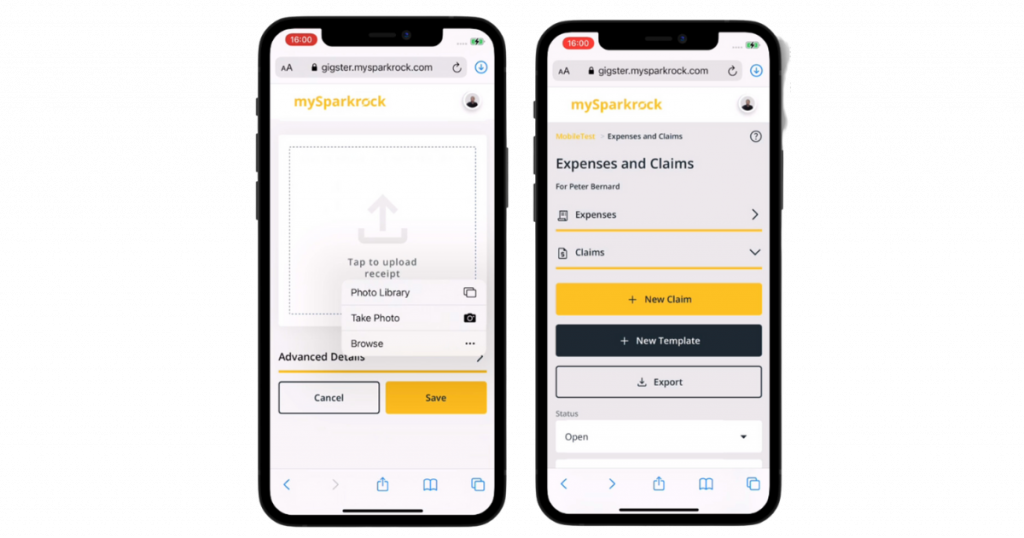 What's New for mySparkrock?
This latest update focuses on two major developments:
Improved user experience
Enhanced mobility
Improved User Experience:
Clean design, intuitive navigation, and enhanced accessibility are enhancements in the latest mySparkrock update that will improve the user experience. Here are some examples:
A hamburger menu and quick links provide ease of access.
Precise error messages and links to help documentation.
Other updates include enhanced speed, security and performance updates.
Enhanced Mobility:
Today's workforce is constantly moving, which is why mySparkrock is a critical part of our customers' ERP experience. We made the following improvements to accessibility to ensure on-the-go usability:
Access from multiple devices, including cell phones to tablets.
No more waiting for desktop access - access critical data, including benefits, emergency contacts, pending tasks, etc.
Schedules, timesheets, and absence requests can be submitted on the go.
Are You Leveraging mySparkrock for Better Efficiency and Effectiveness?
Sparkrock's commitment goes beyond launching new features. It's all about enhancing the lives of our valued customers. With the latest mySparkrock updates, we're taking significant steps to improve our customers' experience and enhance value for future users. These improvements promise to simplify HR and Financial processes while ensuring user satisfaction and maximized accessibility. 
We understand that navigating complex HR and Finance systems can be challenging. That's why we've undertaken a complete redesign to make the platform more user-friendly, faster to navigate, and visually appealing. 
We also recognize that work doesn't always happen within the confines of an office. Whether you're on the move or working remotely, our goal is to provide you with seamless access to mySparkrock through enhanced mobility.
The new mySparkrock release isn't just an update; it will transform the user experience. Ready to learn more about mySparkrock's new on-the-go capabilities? Book a call with our team, and we'll happily walk you through a product demo.