Operational agility granted by current ERP systems is not just a luxury for organizations but a critical necessity.
Unfortunately, this agility is hampered by outdated system upgrades. Their prolonged outages and disruptions make them no longer tenable in today's fast-paced business world.
With Sparkrock's enhanced Upgrade Toolkit, we aim to redefine the implementation experience by turning a labor-intensive process into a streamlined and efficient transition - minimizing challenges associated with traditional ERP upgrades.
The Upgrade Process: Challenges and Solutions
While exciting, upgrading an ERP system has its fair share of challenges, especially around operational workflows.
In the nonprofit sector, for instance, the approval process is not just a procedural formality but a vital system component. Early adopters of cloud migration were often plagued by the daunting task of reconfiguring their entire approval mechanism—a significant hurdle for any large organization.
Addressing this, Sparkrock 365's enhanced Upgrade Toolkit now integrates approval processes, enabling organizations to preserve their established workflows and markedly reduce the time spent on system reconfiguration. This pivotal addition not only restores a sense of familiarity but also mitigates the fear of data loss, a common concern for our users. With a robust Upgrade Toolkit, organizations can rest assured that their data integrity is safeguarded, allowing them to concentrate on their mission-critical operations rather than being bogged down by data verification tasks.
Streamlining Your Sparkrock 365 Upgrade: A Closer Look at the Upgrade Toolkit
Embarking on an ERP upgrade can be daunting, but it doesn't have to be. With Sparkrock's Upgrade Toolkit, the complexities of moving to the cloud are significantly simplified.
The toolkit ensures a smooth transition and helps organizations maintain data integrity and operational continuity.
In this article, we explore how the Upgrade Toolkit:
Facilitates a meticulous upgrade process
Handles organizations' customized data
Ensures smooth upgrade experiences
Proactive Data Accuracy Assurance
The Upgrade Toolkit goes beyond mere data transfer; it acts as a custodian of data integrity, ensuring data accuracy, consistency, and reliability. It is invaluable to customers migrating to Sparkrock 365.
Before initiating the conversion, the Upgrade Toolkit conducts thorough record counts to establish a reliable baseline. Upon completion, a data comparison confirms the accuracy prior to the migration. Any discrepancies found trigger the toolkit's integrity checks, which flag and resolve anomalies.
When clients have "bad data" in their tables, which might have accumulated over the years, the toolkit isn't just passively transferring data; it's actively evaluating and cleansing it. The toolkit actively identifies and cleans out outdated or irrelevant references, with programming logic based on historical fixes. This proactivity in data validation and sanitation eliminates the need for manual interventions, which are commonplace with current industry methods.
Now, organizations won't need to spend hours verifying and double-checking their data after an upgrade.
Handling Customizations with Precision
Many organizations are wary of upgrading because of their customized platform.
Customizations can pose a significant challenge during upgrades, but the toolkit addresses this with a unique solution. A separate utility is tasked with analyzing the organization's existing database, identifying all custom elements based on predefined parameters, and carefully extracting this data. Meanwhile, the primary upgrade continues unhindered by these customizations.
After the upgrade, the toolkit restores custom features and reintegrates the previously extracted custom data. This process is efficient and surprisingly expedited, often outpacing the primary upgrade tool itself. It provides a delicate balance of data management—extract, upgrade, and reintegrate—resulting in a cohesive system without losing the personalized touch of custom configurations.
How To Prepare For Your ERP Upgrade: Best Practices
Organizations can reduce outages and feel confident with data integrity by preparing for their upgrade. While the toolkit does most of the heavy lifting, organizations can take steps to facilitate a smoother and faster upgrade.
Preparing for the upgrade involves cleansing unnecessary data and tying up loose ends:
Remove Redundant Test Companies
If there are multiple copies of companies within the database used for testing, it's vital to remove them. Eliminating these tests streamlines the conversion process by focusing only on active, legitimate companies.
Ensure All Entries Are Posted
Unposted entries in any journal are discarded during the upgrade. Therefore, posting all entries beforehand is vital to prevent any data loss.
Clearing out uncollectible accounts receivable and paying all vendors up-to-date reduces the data load and helps maintain business continuity during the upgrade.
Export and Clear Change Logs
Since change logs represent some of the most extensive tables in the system and will be reset during the upgrade, exporting and clearing them secures records for auditing purposes and speeds up the upgrade process.
By following these preliminary steps, organizations can significantly reduce upgrade times and avoid potential hurdles, making the transition as smooth as possible.
Feel At Ease With Sparkrock's Upgrade Process
The Sparkrock 365 Upgrade Toolkit is a testament to our extensive experience with upgrades and migrations, embodying our commitment to accelerating the pace and improving the efficiency of ERP implementations industry-wide. By handling data with efficiency, and managing customizations with the utmost care, this toolkit stands as an essential component of any Sparkrock system upgrade. 
Ready to upgrade to Sparkrock 365? Reach out to connect@sparkrock.com and let's talk about how we can make your migration to the cloud a smooth and seamless experience.
Organizations are constantly seeking ways to streamline their operations and empower their workforce. Enter Sparkrock 365. We are a cloud-based Enterprise Resource Planning (ERP) system built on the Microsoft Dynamics 365 - Business Central platform. From Finance to Workforce Management, our ERP solution delivers real-time insights, automation, and robust data security, tailored to meet the unique challenges and compliance requirements of Education, Nonprofit and Human services organizations.
Sparkrock customers also get access to a mobile-friendly application called mySparkrock, with accessible features for Finance and HR users on the go. With the release of mySparkrock 2.0 just around the corner, it's a perfect time to review the updates that will make it indispensable for our customers.
What is mySparkrock?
mySparkrock is an online application where employees can update personal information, submit scheduling requests, track time and expenses, and receive relevant notifications. For Sparkrock 365 users, this application fully integrates with our ERP system, reducing the risk of delays and duplicate data entry.
mySparkrock's Functionalities
Whether you're an HR professional, a manager, or part of the Finance team, mySparkrock has something to offer for everyone. It has a wide range of functionalities designed to make critical tasks smoother and more convenient. 
For HR Professionals:
Automated Employee Account Creation: mySparkrock accounts are automatically created for new employees based on employee class, saving you time and effort.
Managerial Insights: Managers can access HR data directly on mySparkrock. This helps them make fast, easy, and effective decisions about upcoming and pending appraisals, pending attendance approvals, pending tasks for direct and indirect reports, and scheduling updates.
Self-Serve Access for Employees: Reduce administrative overhead by providing self-serve access for employees. Users can update profile information, see attendance balances, make time off requests, complete assigned tasks, review qualification and training details, view benefit plan details, view pay statements, and download tax forms.
For Finance:
On-the-Go Expense Claims: This feature allows users to submit expenses for reimbursement anytime, anywhere, streamlining the expense management process.
Convenient Receipt Attachments: With mySparkrock, users can take photos or upload images directly from their mobile devices as receipt attachments. This reduces paper clutter and ensures that all necessary documentation is easily accessible for auditing and compliance purposes.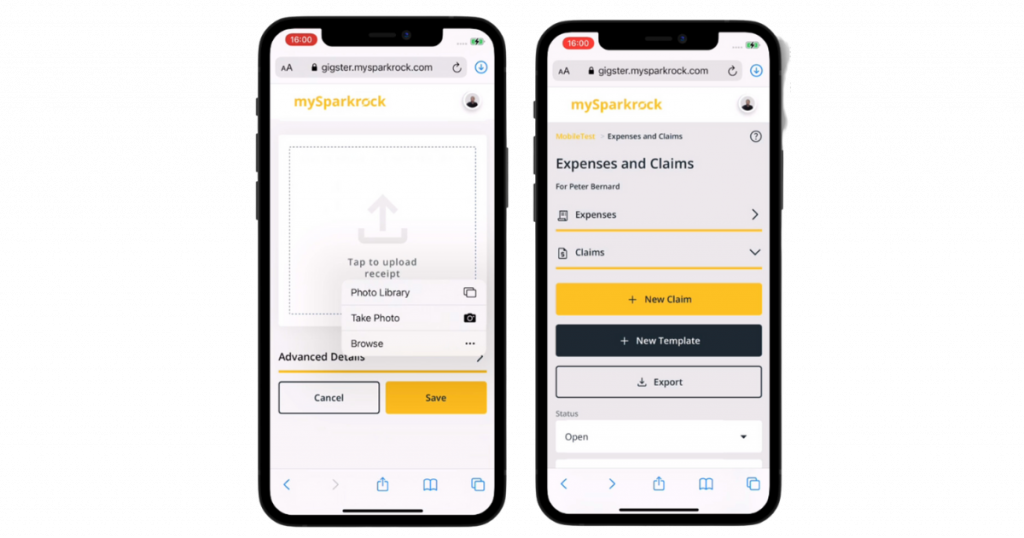 What's New for mySparkrock?
This latest update focuses on two major developments:
Improved user experience
Enhanced mobility
Improved User Experience:
Clean design, intuitive navigation, and enhanced accessibility are enhancements in the latest mySparkrock update that will improve the user experience. Here are some examples:
A hamburger menu and quick links provide ease of access.
Precise error messages and links to help documentation.
Other updates include enhanced speed, security and performance updates.
Enhanced Mobility:
Today's workforce is constantly moving, which is why mySparkrock is a critical part of our customers' ERP experience. We made the following improvements to accessibility to ensure on-the-go usability:
Access from multiple devices, including cell phones to tablets.
No more waiting for desktop access - access critical data, including benefits, emergency contacts, pending tasks, etc.
Schedules, timesheets, and absence requests can be submitted on the go.
Are You Leveraging mySparkrock for Better Efficiency and Effectiveness?
Sparkrock's commitment goes beyond launching new features. It's all about enhancing the lives of our valued customers. With the latest mySparkrock updates, we're taking significant steps to improve our customers' experience and enhance value for future users. These improvements promise to simplify HR and Financial processes while ensuring user satisfaction and maximized accessibility. 
We understand that navigating complex HR and Finance systems can be challenging. That's why we've undertaken a complete redesign to make the platform more user-friendly, faster to navigate, and visually appealing. 
We also recognize that work doesn't always happen within the confines of an office. Whether you're on the move or working remotely, our goal is to provide you with seamless access to mySparkrock through enhanced mobility.
The new mySparkrock release isn't just an update; it will transform the user experience. Ready to learn more about mySparkrock's new on-the-go capabilities? Book a call with our team, and we'll happily walk you through a product demo.
Every second counts in healthcare, even behind the scenes. Efficiency and accuracy are integral to the functioning of health services management. Health units face significant challenges in streamlining their operations, from managing time sheets and HR requests to finance and procurement. The use of multiple systems, each requiring its own licensing and user management, compounds these issues.
That's where Sparkrock 365 enters the scene, offering a comprehensive solution to help reshape the future of health services management.
5 Ways An ERP Solution Can Transform Health Services
Sparkrock 365 is an all-in-one Enterprise Resource Planning (ERP) system designed to alleviate the pain points that health units face. Our system addresses various operational challenges, and streamlines processes integral to healthcare management. It handles expenses, HR requests, payroll, reporting, and more. When all these departments are integrated into a single system, chaos becomes clear.

Here are five ways that an ERP solution can transform health services management:
1. Comprehensive Management
Organizational management faces a wide array of challenges, from managing finances and human resources to overseeing payroll and dealing with complex scheduling. In addition, they must navigate the intricacies of tracking timesheets, handling absences, facilitating procurement, and generating financial reports.
Sparkrock 365 provides a comprehensive management solution. It takes charge of finances, HR tasks, and payroll management with precision. It seamlessly tracks time sheets, monitors absences, and streamlines procurement processes. Sparkrock can handle the complexities of multiple unions and different payroll structures, which is necessary for health services. Additionally, it ensures the accurate documentation of training and certification requirements, simplifying compliance management.
2. Streamlined Processes
In the day-to-day operations of health services management, the burden of manual data entry can be overwhelming. Tasks such as filling in timesheets, tracking expenses, granting approvals, and handling asset depreciation can consume valuable time and are often prone to human errors. Sparkrock 365 eliminates the need for manual input for timesheets, expenses, approvals, and more. The system does the work for you. This automation streamlines processes and frees up time for employees to focus on more high-value tasks.
3. Auditing and Transparency
Adherence to rigorous security and financial auditing standards is not optional; it's a necessity. Sparkrock 365 simplifies both system and financial audits by providing a transparent and traceable record of every action. This meticulous audit trail allows auditors to verify every transaction, reducing the risk of non-compliance. This allows auditors to verify approvals of requisitions, purchase orders, and expenses. It ensures that the health unit systems operate with integrity and remains secure, all while adhering to the strictest industry standards.
4. Data Security
Safeguarding personal data is a key concern for many health services operations, so ensuring data security is a top priority. Employee information, financial records, and other confidential data must be protected with the highest level of security. Sparkrock 365 enables robust, role-based permission systems that allow users to access only the information necessary for their job. This intricate control over permissions helps guarantee the data's integrity and security, giving management peace of mind.
5. Scalability
Health services are constantly evolving to meet the needs of their clients. To mirror that, Sparkrock 365 is adaptable and allows users to expand their use of the system by adding modules that meet their specific needs. Modules for expenses, credit cards, procurement, assets, and more help health units expand their capacity. It provides a centralized hub for efficient management, freeing up valuable time and resources for improved operational efficiency. This scalability ensures that health units remain agile and can respond effectively to changing circumstances.
Use Sparkrock 365 To Empower Health Services Management
Imagine having all your expenses, HR requests, and payroll data seamlessly managed within a single, unified system. Sparkrock 365 excels at handling this complexity. Integration, simplicity, and efficiency are just a few benefits an Enterprise Resource Planning solution can bring to health services management.
By offering a unified platform for finance, HR, and payroll management, Sparkrock provides a comprehensive solution to address the unique challenges that often burden health services. It's the remedy that health services need to overcome their operational hurdles. As a Senior Information Technology Project Manager wisely noted, "We provide value to health units because we manage all of their different programs."
Sparkrock's capacity to streamline and centralize healthcare management processes represents a paradigm shift for health units. Streamlining processes, ensuring transparency, and fortifying data security are the cornerstones of achieving efficient, precise, and fully integrated healthcare management.

Have questions or want more information about how Sparkrock 365 can help your organization? Contact us, and we can get you started on the path to better health services management.
Education is crucial to the development of any society, and technological advancements have revolutionized the way we approach education.
With the advent of Smart Automation, schools can streamline their operations, reduce costs, and improve efficiency with ease.
One of the most significant technological advancements in Smart Automation for Education is the use of ERP (Enterprise Resource Planning) Software.
This software is designed to help schools manage their operations more effectively by integrating various processes, including financial management, inventory management, project management, human resource management, procurement management, business intelligence, scheduling management, and many others.
By automating various tasks, ERP software helps schools save time and reduce errors while improving productivity and efficiency.
In this article, we will explore the benefits and challenges of using ERP software in education, the importance of selecting the right education ERP software, and how it can transform the way schools manage their operations.
What is ERP Software?
ERP stands for Enterprise Resource Planning.
It is a type of software that businesses use to manage their operations. ERP software integrates all aspects of a business, from finance to human resources to inventory management, into one system.
This allows businesses to streamline their operations and improve efficiency.
What is Education ERP Software?
As education institutions continue to grow and expand, managing the various operations and processes can become an overwhelming task. From financial management to inventory management, student information systems, and campus management systems, there are numerous areas that need to be streamlined and organized. That's where Education ERP (Enterprise Resource Planning) Software comes in.
Education ERP Software is a cloud-based Integrated Management System designed specifically for schools of all sizes. It's a multipurpose school management system that provides a comprehensive solution to manage all aspects of school administration. The system includes modules for financial accounting, human resource management, order management, payroll system, and other essential functions.
Financial Management
One of the most significant benefits of Education Software is its financial management capabilities.
The software integrates with accounting management, providing a complete platform for managing revenue and expenses. The school management software helps strengthen financial operations by providing real-time data analysis, tracking account balances, and monitoring transaction history.
Inventory Management
Education Software also includes an inventory management system that helps schools keep track of their physical assets. The system ensures that all resources are being utilized efficiently, making it easy to manage equipment, textbooks, and other learning tools.
Scheduling & Time Entry Management
It is important to ensure all staff have the ability to see a schedule and input their time against it. Scheduling becomes more efficient and transparent when workflows introduce templates, auto-fill settings, and self-service capabilities. ERP systems can offer this level of transparency while reducing errors and delays.
Payroll Management
Ensuring your staff get paid on time is crucial. Streamlined payroll processes not only free up employee time but allows payroll calculations to be automated. Add in the bonus of approvals, and you have the best of both worlds - automation and payroll managers!
Integrated Management Systems
Education Software is an integrated software solution that combines various modules into a single system. This integration provides schools with a comprehensive platform for managing their operations, simplifying tasks, and reducing the workload of administrators.
Education Software Edition
There are several Education Software Editions available in the market, each with its unique features and capabilities. These editions cater to institutions of different sizes and needs, providing a more customized experience for each school.
How Can ERP Software Be Used in Education?
ERP software can be used in education in a variety of ways.
One of the most significant advantages of ERP software is that it can help schools manage their resources more efficiently.
This includes managing finances, human resources, and inventory.
Managing Finances
Finances are a critical aspect of any educational institution. ERP software can help schools manage their finances more efficiently by automating financial processes. This includes everything from budgeting to invoicing to payroll.
With ERP software, schools can save time and reduce errors.
Managing Human Resources
Another area where ERP software can be useful is in managing human resources. Educational institutions have a lot of employees, including teachers, support staff, and administrators. Managing all of these employees can be a challenge.
ERP software can streamline the process by automating tasks such as hiring, onboarding, and performance evaluations.
Managing Inventory
Finally, ERP software can also be used to manage inventory. Educational institutions often have a lot of physical assets, such as textbooks, computers, and other equipment.
ERP software can help institutions keep track of these assets and ensure that they are being used efficiently. This can help reduce waste and save money.
Benefits of Using ERP Software in Education
There are many benefits to using ERP software in education. Here are just a few.
Streamlined Administrative Processes
ERP software can help automate administrative tasks such as generating reports, automating purchase orders, providing onboarding forms to employees, calculating seniority, and more.
This automation reduces the workload of administrative staff and increases their productivity.
Enhanced Data Management
With ERP software, schools can easily store and manage employee data such as training and qualifications, seniority and experience, job requisitions, shift changes, and more.
This centralized data management improves the accuracy of data and enables more effective decision-making.
Improved Efficiency
By automating tasks and streamlining processes, schools can save time and improve efficiency.
Reduced Costs
By managing resources more efficiently, educational institutions can reduce costs.
Increased Financial Management
ERP software provides educational institutions with accurate financial reporting and budgeting tools. This can help reduce costs, optimize revenue streams, and improve overall financial management.
Greater Transparency
ERP software provides real-time data, which can help educational institutions make better-informed decisions.
Improved Communication
ERP software can facilitate communication between different departments within an educational institution. Also, ERP software improves communication between teachers, students, parents, and administrative staff.
It provides a platform for sending messages, notifications, and updates from one central location.
This helps to keep everyone involved in the educational process informed and up-to-date.
Challenges of Implementing ERP Software in Education
Implementing ERP software in education can be challenging. Here are a few challenges that educational institutions may face.
Cost
ERP software can be expensive to implement, especially for smaller educational institutions.
Training
Staff will need to be trained on how to use the software, which can be time-consuming.
Resistance to Change
Some staff members may be resistant to change, which can make it difficult to implement ERP software successfully.
Implementing ERP Software: Tips for Successful Adoption in the Education Sector
Implementing an education ERP software system can be a complex process. Here are some tips for successful adoption.
Engage Stakeholders
Before implementing an ERP software system, it is crucial to engage all stakeholders, including administrative staff and teachers.
This will help to ensure buy-in from all parties and minimize resistance to change.
Choose the Right Vendor
When selecting an ERP software vendor, look for a provider with experience and specialization in the education sector and a track record of successful implementations.
Provide Adequate Training
To ensure successful adoption, it is important to provide adequate training to all users of the ERP software system. This includes teachers, administrative staff, and other key stakeholders.
Ensure Integration with Existing Systems
Before implementing ERP software, it is crucial to ensure that it can integrate with existing systems and software.
This will help to minimize disruptions and ensure a smooth transition.
Conclusion
In conclusion, Smart Automation for Education through software has become a necessity in modern times. It helps educational organizations manage their complex workflows, enhance productivity, and streamline operations with the help of an integrated system. The right education software boosts business performance, improves financial operations, and strengthens the academic community.
When selecting the best software for an educational institution, it is crucial to consider several factors. These include the scalability of the software, project regulation, admissions regulation, examination procedure, business intelligence, timetable management, open and flexible technologies, and the ability to manage sensitive data.
The benefits of software in education extend beyond monetary savings. It helps strengthen the school community by improving communication between staff, students, and parents. The software enables educational institutions to generate reports, analyze trends, and monitor student advancement accurately.
With the right education software, educational institutions can achieve a more efficient and streamlined approach to managing their operations.
Are you interested in learning more about smart automation for education? Reach out to our Sparkrock team to learn more about our ERP, Sparkrock 365, and how you can improve efficiency in your schools and districts.
Education is a crucial sector that plays a significant role in shaping the future of any society. From kindergarten to university, educational institutions are responsible for providing quality education to students that can prepare them for their future careers.
However, managing these institutions can be a complex task that requires the integration of various systems and processes in school operations. This is where modern ERP software comes into play.
Are you tired of drowning in a sea of paperwork, and struggling to keep up with administrative and academic processes in your educational organization?
Fear not, modern ERP software is here to save the day!
The Slow Adoption of ERP Software in the Education Sector: Why the Educational Organization Needs Catching Up
ERP (Enterprise Resource Planning) software is a type of business management software that integrates all the essential processes of an organization into a single system — like a school management system and campus management system.
This software has been in use in the corporate world for many years and has proven to be an effective tool for managing business operations, human resources management, and inventory management.
However, the education sector has been slow in adopting this technology.
ERP (Enterprise Resource Planning) software is the superhero we all need in education, especially in our educational institutions.
It integrates all essential processes of an organization into a single system, allowing you to manage everything from staffing to financial management with ease. It's like having a personal assistant in educational institutions that never takes a break!
Ah, the education sector, where we value tradition and human interaction above all else.
But let's be honest, managing an educational institution can feel like juggling a million tasks at once. From managing student admissions to tracking financial resources, it can feel like an endless game of whack-a-mole.
In recent years, the use of ERP software and integrated software solutions in the education sector has become increasingly popular. Schools and universities are turning to corporate ERP systems to streamline their administrative and academic processes, reduce paperwork, and improve the overall efficiency of their operations. This has led to the emergence of a new field known as Education Resource Planning (ERP).
Educational organizations have many needs and responsibilities, from school administration and human resources management, to school operations, and financial performance.
While managing all these aspects efficiently can be challenging for busy school administrators, modern Enterprise Resource Planning (ERP) software offers multiple solutions that simplify school management.
So why are we still stuck in the dark ages when it comes to adopting modern technology like ERP software?
It's time to step up our game and embrace the benefits of this superhero software!
Automating Administrative Processes 
Gone are the days of manual administrative tasks. ERP software can automate workflows, fee collection, attendance tracking, and generating data insights, reducing the workload on administrative staff and eliminating errors and delays.
The right ERP system can help schools automate the various tasks associated with their operations, such as creating Ministry standard reports, performance appraisals, benefits & training, staff scheduling, fee management, budget tracking, payroll, and HR processes.
With an integrated management system or "multipurpose school management system" that is built specifically for educational organizations, administrators can easily oversee day-to-day operations while saving time and money in resource planning.
It's time to ditch those dusty filing cabinets and embrace the digital age of fee management, human resource management, and data reporting systems in our educational institution.
Efficient Financial Management 
And let's not forget about the financial side of things. ERP software/ERP systems can manage budgeting, procurement, and inventory management, helping you track expenses, reduce wastage, and optimize your financial resources.
You'll be able to manage your finances like a pro without breaking a sweat and without the help of coaching centers on ERP.
Simplifying Educational Operations
Business performance and right education are enhanced by comprehensive open-source ERP software/ERP system built to manage complex workflows. From facility management in a college to the school community, ERP systems are a powerful tool to help organizations streamline their operations.
A comprehensive college requires the right education ERP to give students a complete solution for their learning needs. This can be achieved through other ERP systems, with integrated software solutions that allow them to handle sensitive data and strengthen financial operations.
Coaching centers can benefit from open and flexible technologies, allowing them to access project management, software solutions, and school ERP solutions for better financial accounting. An effective ERP system provides a holistic approach to handling all aspects of learning, giving a complete solution for both students and faculty alike.
Improved Communication and Collaboration
Finally, ERP software/ERP system promotes effective communication and collaboration among students, teachers, and administrative staff. With seamless sharing of information, timely feedback, and effective collaboration, the educational experience is bound to improve for everyone involved.
Most commercial ERP systems are designed for large corporations or businesses, whereas education software editions take into account the unique requirements of schools and educational institutes.
These products offer features such as comprehensive reporting tools; self-service portals; automatic tracking of staff attendance; data visualization tools; database synchronization with other applications; and more.
In conclusion, ERP software is the answer to all your educational management problems. It's the sidekick you never knew you needed but won't be able to live without.
Say goodbye to the old ways of managing your educational institution and embrace the simplicity of modern ERP software.
Embracing the Future: Innovative Ways to Implement Cloud, Microsoft Business Central, and AI in Schools
The education sector has always been known for its traditional approach to management and learning. However, as technology continues to evolve, educational institutions need to keep up with the times.
With the rise of cloud computing, Microsoft Business Central, and Artificial Intelligence (AI), there are now more opportunities than ever to streamline and enhance educational processes — mitigating the reliance on coaching centers.
In this part, we'll explore some innovative ways to implement these school management software technologies in schools.
Cloud Computing in Education
Cloud computing can revolutionize the way educational institutions manage their school management software operations. For instance, cloud-based student information systems (SIS) can store and manage student data securely, allowing teachers and administrators to access information from anywhere, at any time.
A prime example of this is Blackbaud, a cloud-based SIS used by schools worldwide as the top school management software.
Microsoft Business Central for Financial Management
Microsoft Business Central is a cloud-based ERP (Enterprise Resource Planning) solution that helps organizations manage their financial operations effectively. Educational institutions can use this software to manage budgets, procurement, and inventory.
For example, the Santa Fe Public Schools in New Mexico implemented Microsoft Business Central and a school management software to centralize financial management across its schools, resulting in improved financial transparency and accountability.
Did you know? Sparkrock 365 is built upon Microsoft Business Central to provide added benefits on top of what is available in that system. Click here to learn more about how Sparkrock 365 assists in finance and procurement, payroll, and human resources management for education.
AI for Personalized Learning
Artificial Intelligence can play a significant role in personalized learning, which is becoming increasingly important in the education sector. AI-powered educational software can analyze student data and provide personalized learning experiences based on individual needs and strengths.
AI-powered ERP software for schools can help school districts manage their inventory more efficiently by integrating management systems into an automated framework.
The use of advanced algorithms and automation allows school ERP systems to process data quickly and accurately, helping districts save time and money while improving accuracy—allowing them to focus on other important tasks.
By leveraging AI capabilities in ERP software, schools can boost their efficiency and reduce the amount of manual effort required to keep track of assets.
For example, DreamBox Learning uses AI algorithms to provide personalized math education to students from kindergarten to 8th grade, resulting in improved math scores and engagement.
Implementing Cloud, Microsoft Business Central, and AI in Schools: A Step-by-Step Guide
Educational institutions that embrace cloud computing, Microsoft Business Central, and AI can gain significant advantages in terms of streamlined operations, improved financial management, and personalized learning.
If you're interested in implementing these innovative solutions in your school, here are some steps to help you get started:
Assess Your Needs
Identify the areas where cloud computing, Microsoft Business Central, and AI can bring the most value to your school. Do you need to improve financial management? Do you want to personalize learning experiences for your students?
Once you have a clear understanding of your needs, you can start exploring the options available.
Choose the Right Solutions
Research and compare different cloud computing, Microsoft Business Central, and AI solutions to find the ones that best meet your needs.
Look for solutions that are specifically designed for the education sector, and that offer the features and capabilities you need.
Develop a Plan
Once you've chosen your solutions, develop a plan for implementing them in your school. This should include timelines, budgets, and responsibilities for each step of the process.
Build Your Infrastructure
Before you can implement cloud computing, Microsoft Business Central, and AI solutions, you need to have the right infrastructure in place. This may include upgrading your hardware, setting up cloud servers, and configuring your network.
Train Your Staff
To ensure that everyone in your school can effectively use the new solutions, provide comprehensive training to your staff. This can include workshops, webinars, and one-on-one coaching.
Implement the Solutions
Once your infrastructure is in place and your staff is trained, it's time to implement the solutions. Work with your chosen vendors to ensure a smooth and successful implementation.
Monitor and Evaluate
After you've implemented cloud computing, Microsoft Business Central, and AI solutions, monitor their performance and evaluate their impact on your school. This will help you identify areas for improvement, and ensure that you're getting the most out of your investment.
By following these steps, you can successfully implement cloud computing, Microsoft Business Central, and AI solutions in your school, and enjoy the benefits of streamlined operations, improved financial management, and personalized learning.
The Future is Now: Embrace Cloud Computing, Microsoft Business Central, and AI in the Education Sector Today
Incorporating cloud computing, Microsoft Business Central, and AI into educational processes can bring significant benefits, such as streamlined operations, improved financial management, and personalized learning.
Modern school districts are finding it increasingly easier to manage their activities — thanks to efficient ERP implementations that deliver integrated modules for managing core functions like finances as well as specialized tasks like timetabling or setting up business processes associated with corporate plans or other projects.
With reliable enterprise solutions tailored to educational institutions' unique needs now available on the market at relatively lower prices, efficient school resource planning is now within reach of even small establishments.
Whether it's establishing contact with prospective candidates or better monitoring the performance of existing students, an integrated IT infrastructure supporting the effective use of cutting-edge ERP software will be invaluable in helping schools create exceptional learning experiences more efficiently than ever before.
Schools today are becoming increasingly reliant on technology to manage their functions, from classrooms and administrative tasks to student and campus management. A school management system is an integrated platform designed to help administrators streamline the processes of managing their schools.
As technology continues to evolve, higher education institutions that embrace these innovative solutions will be better positioned to meet the needs of students and staff and stay ahead of the curve in the ever-evolving digital landscape.
Ready to learn more about how ERP can impact the Education sector? Reach out to our team today to see how Sparkrock 365 is revolutionizing work flows.
Have you ever wondered how artificial intelligence (AI) and machine learning are being used by nonprofit organizations? Well, as these technologies gain popularity, it's becoming increasingly important to think about the ethical side of things.
AI can actually do wonders for nonprofits by assisting in decision-making, analyzing data, and enhancing donor engagement. But, of course, with great power comes great responsibility, and that's where the challenges and potential risks come into play.
In this article, we'll examine the ethical aspects of AI and machine learning within nonprofit organizations and offer guidance on managing them conscientiously. Eager to learn more? Dive in with us!
The Benefits of Artificial Intelligence for Nonprofits
AI is not just for big corporations or sci-fi movies. It's also making a significant impact on nonprofits, helping them do more with less and achieve their goals more effectively. Let's take a closer look at how AI is benefiting nonprofits:
Building Stronger Donor Relationships: AI-powered tools enable nonprofits to personalize their interactions with donors. By analyzing data and using predictive analytics, nonprofits can tailor their fundraising campaigns and communications to resonate with donors on a personal level. This personal touch strengthens the bond between nonprofits and donors, leading to better retention and support.
Making Informed Decisions: AI can crunch large amounts of data and identify patterns and insights that humans might miss. Nonprofits can use machine learning algorithms to analyze donor behavior, evaluate fundraising campaigns, and make data-driven decisions. This helps nonprofits understand what works and what doesn't, improving their strategies and moving them closer to their objectives.
Effective Fundraising: AI tools provide nonprofits with richer insights and help them optimize their fundraising efforts. By leveraging AI, nonprofits can identify potential donors and target them with the right messages, increasing the chances of receiving donations. This precision targeting maximizes the impact of fundraising activities and boosts the return on investment.
Streamlining Fundraising for Small Nonprofits: AI is no longer limited to big organizations. Even small nonprofits can benefit from AI-powered solutions. These tools allow small nonprofits to focus on improving their fundraising processes without draining their limited resources. By making fundraising more efficient and effective, AI helps micro and local nonprofits secure the resources they need to continue their valuable work.
Leveraging New Technologies for Analysis: AI-powered technologies help nonprofits uncover insights and factors that contribute to success. By using machine learning algorithms, nonprofits can analyze various aspects of their fundraising procedures and gain a deeper understanding of what works best. This data-driven approach leads to better decision-making, improved cost-effectiveness, and overall better results.
In a nutshell, AI is a game-changer for nonprofits. It helps them personalize their interactions with donors, make informed decisions, optimize fundraising efforts, and streamline processes.
By embracing AI, nonprofits can maximize their impact and create positive change in the world. So, it's time to embrace the power of AI and take their missions to new heights.
Examples of Successful Implementation
There are many examples of nonprofits that are adopting AI-powered tools to improve fundraising activities.
The Red Cross has used predictive analytics to help improve disaster relief recoveries, helping them quickly access data and make informed decisions.
Another example is the World Wildlife Fund, which has adopted AI-powered natural language processing tools to engage donors and provide personalized content, leading to greater engagement and higher donations.
The Ethical Considerations of Artificial Intelligence
As nonprofits embrace the power of AI, it is essential to address the ethical considerations that come with this technology.
By considering the following factors, organizations can ensure that AI is used responsibly and ethically:
Privacy and Security: With AI relying on vast amounts of data, nonprofits must prioritize privacy and security. Safeguarding donor data is crucial, and nonprofits should take measures to protect this information. Anonymizing data before sharing it with third-party providers can help maintain donor security.
Inclusivity: Nonprofits must ensure that their AI-supported fundraising efforts are inclusive and do not exclude any particular group or community. It is crucial to avoid organizational bias that can unintentionally be integrated into AI algorithms. Nonprofits should ensure that the data sets used in AI algorithms are diverse and representative of all relevant groups to mitigate the risk of bias and discrimination.
Transparency: Nonprofits need to be transparent about their use of AI technology, both to donors and other stakeholders. Communicating the integration of AI within nonprofit operations is essential, emphasizing ethical and responsible management. Establishing internal controls and procedures for overseeing and governing AI usage will further ensure transparency.
By carefully considering these ethical factors, nonprofits can harness the power of AI while upholding their values and maintaining the trust of their donors and communities.
Responsible AI: Best Practices for Nonprofits
Artificial Intelligence has the potential to revolutionize the way nonprofits operate and achieve their missions.
However, ensuring responsible AI usage is crucial to avoid ethical pitfalls. Here are some best practices that nonprofits can adopt to navigate the ethical considerations associated with AI:
Data Management: Nonprofits should establish robust data handling practices to ensure the accuracy, truthfulness, and fairness of the data used in AI algorithms. This includes keeping track of data collection, storage, and processing, as well as implementing checks and balances to prevent biases or potential discrimination. Regular testing, review, and monitoring of AI systems can help maintain data integrity.
Ethical Design: Nonprofits should prioritize ethical design principles when developing AI algorithms. These algorithms should respect the rights and privacy of individuals, and nonprofits should implement a human-in-the-loop paradigm. This involves introducing a human review, oversight, or governance to ensure that AI systems protect donor and stakeholder information.
Human Oversight: Human oversight is critical in responsible AI implementation. Nonprofits should find the right balance between humans and technology, leveraging human expertise where AI falls short or significant decision-making is required. This human oversight helps mitigate risks and ensures that AI is aligned with the organization's values and objectives.
Prototype Testing: Before fully deploying AI systems, nonprofits should conduct prototype testing. This allows them to identify and address potential risks or biases early on. By testing AI algorithms, nonprofits can gain insights into areas where AI may fall short or be less effective in achieving their goals. This testing phase enables adjustments and improvements to be made before widespread implementation.
Monitoring and Adaptation: AI algorithms are dynamic and continually evolve with data inputs. Nonprofits should establish a system for monitoring and adapting to changes in AI algorithms. An ongoing review of key metrics, data points, and decision-making results is essential to ensure that the AI system remains aligned with the organization's objectives. This adaptability helps nonprofits maintain responsible AI usage as their operations evolve.
By adhering to these best practices, nonprofits can harness the power of AI while upholding ethical standards.
Responsible AI usage enables organizations to leverage technology for positive impact and ensure the trust and support of their donors and stakeholders.
The Future of AI and Nonprofits
As AI technologies continue to develop, the risk and ethical considerations associated with AI will continue to become more significant. However, the benefits of using AI to analyze and interpret data effectively remain undeniable. Nonprofits that leverage AI while remaining responsible and ethical are positioning themselves at the forefront of benefactor engagement and the creation of successful fundraising strategies.
By staying responsive to changing technologies and implementing best practices, nonprofit organizations can use AI to create more meaningful benefactor engagement experiences, make informed operational and fundraising decisions, allocate resources more effectively, and ultimately raise more money to support their causes.
Conclusion
In a world where technology is advancing rapidly, nonprofits have the opportunity to harness the power of AI for their causes. However, with great power comes great responsibility. It is crucial for nonprofits to prioritize responsible AI usage to ensure that the potential benefits are not overshadowed by unintended consequences.
By establishing guidelines that prioritize transparency, inclusivity, and privacy, nonprofits can leverage AI tools to enhance their fundraising efforts and deepen benefactor engagement. Responsible AI practices enable nonprofits to make data-driven decisions while upholding the trust and respect of their donors and stakeholders.
So, as nonprofits embark on their AI journey, let us remember the importance of responsible AI implementation. How can we use this powerful technology to drive positive change while ensuring ethical practices? It is a question that each nonprofit must answer as they embrace AI for their missions.
Explore how AI can revolutionize your nonprofit's operations and make a positive impact. Start your responsible AI journey today by incorporating ethical guidelines and best practices. Together, let's harness the power of AI for a better world.
Ready to learn more about AI and the world of ERP? Reach out to the Sales team at Sparkrock to learn more about how AI is being utilized in ERP software and can help your organization prosper.
The nonprofit sector is constantly evolving, and organizations that are leveraging the latest artificial intelligence tools in computer science have an edge in bringing together data to make informed decisions about fundraising, conservation efforts, and the allocation of resources.
Artificial intelligence has the potential to revolutionize the way nonprofits work with fundraising efforts and tackle social problems. With the ability to gather and analyze large amounts of data quickly and accurately, AI and machine learning tools can help nonprofit organizations make computer-controlled, data driven decisions that allow nonprofits to create personalized campaigns, streamline administrative tasks, and raise more money.
In this article, we'll explore how AI is being used by nonprofits, the benefits it offers, and the challenges that organizations face when implementing AI technologies.
How Nonprofits are Using AI
Nonprofits are always looking for ways to improve their fundraising and conservation efforts, and artificial intelligence (AI) powered technologies are now offering promising solutions. AI tools like machine learning systems, natural language processing (NLP), and data management software are being used by nonprofits to process data points more efficiently and derive deeper insights from them.
Let's explore how nonprofits are leveraging AI-powered technology to achieve their goals, and how these tools can offer insights into donor behavior, engage supporters, and perform tasks more efficiently.
The Fundraising Process
The nonprofit sector relies heavily on donations. However, the fundraising process is time-consuming and requires a personal touch to develop long-term relationships between donors and organizations. AI-powered tools can help with this process by providing deeper insights into donor behavior.
For instance, machine learning tools can help nonprofits predict which donors are more likely to give and how much money they might donate. These tools can take into account a wide range of factors, including past giving history, age, and social media activity.
Natural language processing allows nonprofits to analyze text data to understand the correlation between the language used in donor conversations and their behavior. By analyzing the language used in donor emails or social media posts, nonprofits can identify what motivates donors, and their preferred communication channels, and then ensure that their messaging is on point.
Program Development and Evaluation
Nonprofits are also using AI to develop and evaluate their programs. By analyzing data from various sources—such as surveys, social media, and program outcomes—AI can identify patterns and trends that can help organizations fine-tune their programs to achieve better results.
Predictive Analytics
Predictive analytics is another powerful way nonprofits are using AI. By analyzing data on trends and behaviors, AI can help organizations predict future outcomes, such as which areas are most likely to experience a crisis or which interventions are most effective in preventing a problem.
Administrative Tasks
AI can also help nonprofits with administrative tasks, such as scheduling, data entry, and record-keeping. This can free up staff time and resources for more mission-critical work.
Information Management
Information management is a critical aspect of every nonprofit's operations. AI-powered information management systems are enabling nonprofits to store and analyze large amounts of data and share it with other organizations.
These tools can automate the process of data entry, saving time and money. Information management systems can also perform data cleansing procedures on data points that are duplicated or incomplete. This, in turn, provides accurate insights into different areas of an organization's operations.
Conservation Efforts
One of the biggest challenges for conservation nonprofits is tracking data on wildlife populations or environmental impact. AI-powered technology is helping to deconstruct and analyze the raw data that are collected by conservation organizations so that they can better understand how to combat environmental pressures.
AI-powered tools can help in tracking animal populations, where drones are used to monitor them, and machine learning analyzes the data points to determine movement patterns, behaviors, and other factors that could impact animal populations.
Ethical Considerations
While much progress has been made with AI-driven technologies, many nonprofits are still working on building the right infrastructure to support these new tools. AI-powered technologies must be implemented with care so that ethical considerations are not overlooked.
Nonprofits must be sure that their AI tools are designed in ways that respect the rights and privacy of all individuals. Additionally, these tools should be built to improve service delivery by providing secure and accessible data points.
Benefits of AI for Nonprofits
AI offers several benefits for nonprofits looking to enhance their impact:
Improved Efficiency
AI-powered automation can help nonprofits become more efficient by automating repetitive tasks, such as data entry and scheduling. This frees up staff time and resources for more strategic work.
More Data-Driven Decision Making
AI can help nonprofits make computer-controlled decisions by analyzing large amounts of data quickly and accurately. This enables organizations to develop targeted, effective strategies that are more likely to achieve their impact goals.
Greater Resource Allocation
AI-powered predictive analytics can help nonprofits allocate their resources more effectively. By identifying areas of high need and potential impact, organizations can direct their resources to where they are most needed.
Challenges of Implementing AI
Despite the potential benefits of AI, there are several challenges that nonprofits face when implementing AI technologies:
Cost and Access
The cost of developing and implementing AI technologies can be prohibitive for many nonprofits. Additionally, some nonprofits may not have access to the technical expertise required to effectively implement AI solutions.
Privacy and Security
Nonprofits must also be mindful of privacy and security concerns when using AI. Ensuring that data is collected and stored securely and in compliance with relevant regulations is critical to protecting both the organization and the individuals it serves.
Ethical Concerns
Finally, nonprofits must consider the ethical implications of using AI. Ensuring that AI is being used in a responsible and ethical manner is critical to maintaining the trust of stakeholders and the broader community.
Conclusion
The integration of AI-powered technologies into the nonprofit sector is an opportunity to transform how organizations function in a digital age. By using computer-controlled insights to make informed decisions, nonprofits can better engage supporters, streamline administrative tasks, and raise more money.
Machine learning algorithms, NLP, and information management tools are all helping to ensure that nonprofits can operate more efficiently and better serve their communities. By implementing AI-powered technology, nonprofits can be more effective in achieving their missions and ensuring that their work has a positive impact on society.
However, implementing AI technologies also poses challenges, including cost and access, privacy and security, and ethical concerns. Nonprofits must be mindful of these challenges and work to ensure that AI is being used in a responsible and ethical manner.
Overall, AI offers great potential for improving the work of nonprofits and helping organizations achieve greater impact for the communities they serve. As AI technologies continue to evolve and become more accessible, nonprofits can leverage them to enhance their impact and achieve greater results.
Want to learn more about how ERPs are integrating AI technology for nonprofits? Reach out to our team to learn more.
As teachers and students navigate the increasingly digital landscape of our world, school districts must stay ahead of the curve to provide quality educational experiences.
In recent years, education has experienced a significant transformation due to the integration of technology. One of the most significant technological advancements in K-12 education is the implementation of ERP software for school districts.
In this blog post, we will take an up-close look at how ERP software is transforming K-12 education by providing ways to streamline activities while also offering invaluable insights into best practices that can further benefit both administrators and instructors alike.
Let's explore how ERP software is transforming K-12 education.
What is ERP?
Enterprise resource planning (ERP) software is playing a crucial role in helping K-12 school districts transition from traditional technologies to those taking place in the cloud.
ERP stands for Enterprise Resource Planning, and it refers to a suite of integrated software applications that help organizations manage their daily operations.
This technology provides comprehensive management solutions for areas like finance, operations, procurement, budgeting, human resources, and more.
In the case of school districts, ERP software can be used to manage a variety of processes, including financial management, human resources, and more.
K-12 & ERP Software
K-12 and ERP software have become increasingly important for educational institutions, particularly in the realm of information security. School ERP solutions are designed to automate various business processes, such as payroll and human resources. As a result, it is easier to manage sensitive data and financial transactions across an organization.
A school ERP system is an all-in-one tool that allows an entire school (or district) to be managed effectively from one platform. It also allows school boards to monitor data in real time, giving them total control over administrative processes. With this powerful technology, K-12 school districts can establish a secure environment for their students, teachers, and staff members.
ERP software is essential for managing the day-to-day operations of any educational institution. By using sophisticated analytics tools and automated processes, administrators can make informed decisions about their respective schools—all while keeping everyone's data safe and secure. For K-12 education, this type of technology is invaluable in providing a safe learning environment for students and staff alike.
Why ERP Software for School Districts?
School districts are complex organizations that require the coordination of various departments and functions.
For example, the finance department needs to manage budgets, track expenses, and generate reports. The human resources department needs to manage employee records, payroll, and benefits. The student information department needs to manage enrollment, grades, attendance, and more.
ERP software for school districts provides a centralized platform that can integrate these different functions, making it easier to manage day-to-day operations and for internal communication between teams.
Improved Financial Management
One of the primary benefits of ERP software for school districts is improved financial management.
With ERP software, school districts can streamline their budgeting, accounting, and reporting processes. This single source of truth for data can reduce errors, duplication, and delays within the integrated system, ensuring those tedious administrative tasks are automated while mitigating risk.
The software can generate financial reports, track expenses, and manage vendor payments. These features can increase transparency and help school districts maintain oversight in an efficient manner.
ERP software can also provide real-time visibility into financial data, making it easier for administrators to make informed decisions.
Efficient Human Resources Management
Managing employee records, payroll, and benefits can be time-consuming and complicated.
ERP software for school districts can simplify these processes by providing a centralized platform for managing employee data. Imagine a system where you can add, modify, and approve job requisitions in one area, streamlining your hiring process.
The software can track employee hours, manage benefits enrollment, and generate payroll reports. K-12 school districts can ensure accuracy in their payroll process, freeing up time for your employees to focus on other tasks.
By automating these processes, administrators can save time and reduce the risk of errors.
Improved Collaboration and Communication
Another significant benefit of ERP software for school districts is improved collaboration and communication.
With ERP software, administrators, teachers, and staff can access the same information in real-time, reducing the risk of miscommunication or duplication of effort.
ERP software can also help facilitate communication with parents and guardians, providing a platform for sending announcements, sharing grades, and scheduling parent-teacher conferences.
Choosing the Right ERP Software for K-12 Schools
K-12 schools require an enterprise resource planning (ERP) software solution to manage the day-to-day operations of their educational institutions. An ERP system is an all-in-one tool that runs on the same platform, allowing officials to easily track data across multiple positions. It also helps to automate processes such as human resources and attendance management, making it easier to maintain data security.
In order to choose the right ERP software for a K-12 school district, one must first assess their unique needs. Does the school need an HR module? What other systems will be integrated with this software? Will this software need to interface with higher education institutions or other departments? Once these questions are answered, administrators can begin researching different vendors and determine which software fits best with their individual requirements.
What makes an ERP system so beneficial for K-12 schools is its ability to increase efficiency through automation. For example, many ERP systems have accounting modules that help manage budgeting and payroll activities more effectively. This type of technology is highly sought after by both private and public institutions alike due to its ability to streamline administrative tasks while ensuring compliance with state and federal regulations.
Choosing the right ERP system for a K-12 school can be a difficult decision but one that should not be taken lightly.
Conclusion
ERP software for school districts is transforming K-12 schooling by streamlining administrative processes, improving financial management, and enhancing communication and collaboration. With ERP software, school districts can focus on providing high-quality schooling to students, rather than spending valuable time on administrative tasks.
As technology continues to evolve, ERP software will continue to play an increasingly important role in K-12 schooling.
Want to learn more about ERP software technology and it's impact on K-12 schooling? Connect with our team today to set up a time to review the power behind ERPs in K-12 Education.
As a nonprofit organization, managing multiple programs and their associated business processes can be challenging. On top of that, there's donor management, grant management, fund accounting, and financial planning to consider. It can be overwhelming, especially when manual entries and gift entry processes eat up valuable staff time and resources. This is where enterprise resource planning (ERP) software for nonprofits comes in handy.
ERP software for nonprofits is an all-in-one solution that streamlines business processes, improves program management, and provides better visibility into financials. Nonprofit organizations can benefit from the numerous features available, such as financial management, inventory management, project management, human capital management, asset management, and reporting.
With ERP solutions, organizations can automate manual entries, track expenses, and gift entries, and make data-driven decisions to improve their programs' effectiveness.
In this article, we'll explore five ways ERP software for nonprofits can boost your mission and impact.
We'll cover topics such as efficient financial management, streamlined business processes, improved program management, donor and grant management, and cloud-based solutions.
Additionally, we'll help you choose the right solution for your nonprofit organization by considering the features that align with your business needs.
Whether you're a charitable organization or other nonprofit organization, ERP software offers an all-in-one solution for managing your organization's programs, budgets, and finances.
By implementing the right solution, you can free up staff time and resources, focus on your mission, and improve outcomes for the communities you serve.
Let's dive in and explore the five ways ERP software for nonprofits can boost your mission and impact.
Efficient Financial Management
One of the primary benefits of ERP software for nonprofits is efficient financial management.
The software allows organizations to manage budgets, track expenses, and forecast cash flow.
With ERP solutions, organizations can get a real-time view of their financials, which helps them make informed decisions about budgeting and resource allocation.
Additionally, ERP software allows easy grant management by tracking expenses and reporting on fund usage, enabling organizations to meet compliance requirements.
Streamlined Business Processes
Nonprofit organizations have different programs and processes that require management.
ERP systems provide an all-in-one platform for managing business processes, such as inventory management, project management, and asset management.
By automating these often manual processes, ERP software frees up time and resources for nonprofits to focus on their mission.
Improved Program Management
ERP software offers improved program management for nonprofits.
It provides a single platform for managing several programs, such as Microsoft Office Suite, allowing organizations to collaborate, communicate and share data between different teams.
ERP solutions enable nonprofit organizations to streamline their workflows, get insight into performance metrics, and make data-driven decisions to improve their programs' effectiveness.
Donor and Grant Management
ERP software for nonprofits provides a holistic view of donor management, including gift entry, case management, and reporting.
It also streamlines the process of grant management by tracking expenses and providing detailed reports on fund usage.
With ERP solutions, nonprofit organizations can manage their donors' relationships and preferences and tailor communications to their needs.
Cloud-based Solution
Cloud-based ERP software provides nonprofits with access to their data from anywhere, making remote work possible.
It also eliminates the need for on-site servers and IT infrastructure, reducing upfront costs and maintenance expenses. Many ERP software providers offer cloud-based solutions, such as Sparkrock 365 being built upon Business Central, which starts at a reasonable price point suitable for nonprofit organizations.
Choosing the Right ERP Software for Nonprofits
When selecting the right ERP solution for your nonprofit organization, it is crucial to consider your unique business needs.
Look for software that offers financial planning, donor management, grant management, expense tracking, fixed assets, and financial reporting capabilities.
Additionally, consider the features that will improve your productivity, such as time tracking, content management, and sales management.
Choose an ERP software that aligns with your organization's mission, has an intuitive user interface, and provides excellent customer support.
Conclusion
In the world of nonprofits, managing several programs and business processes can be overwhelming. Luckily, ERP software for nonprofits is here to save the day!
With its all-in-one solution, ERP software streamlines business processes, improves program management, and gives nonprofits better visibility into their finances.
No more manual entries or gift entry processes! Automation is built into these systems to eliminate these tedious tasks to free up valuable staff time and resources.
Financial management becomes a breeze with budget tracking, expense reporting, and cash flow forecasting all in one place.
Say goodbye to scattered data and processes! ERP systems provide a single platform for managing multiple programs, from inventory management to project management to customer relationship management.
Plus, it's even easier to manage donors and grants with holistic views and detailed reports.
And let's not forget about cloud-based ERP solutions that allow nonprofits to access their data from anywhere, making remote work possible and eliminating the need for on-site servers and IT infrastructure.
Choosing the right ERP software that is tailor to your nonprofit organization is key to ensure you can leverage the benefits of automation, cloud-based systems, collaborative tools, and more. These comprehensive solutions are the perfect tool to improve data-driven decisions, streamline business processes, and ultimately boost your mission and impact.
Choosing the right ERP is an important decision! Reach out to our team today to learn about how Sparkrock 365 is revolutionizing workflows for non-profits.
Improving operational efficiency and reducing costs are the top priorities for any business, including nonprofit organizations. Enterprise resource planning (ERP) software offers nonprofits a single platform that makes it easy to manage all their activities like inventory management, project management, financial planning, and more in one centralized system.
An ERP system helps nonprofits save time by automating tedious tasks while providing real-time visibility into performance metrics regardless of location or program being managed. This leads to better decision-making capability through improved analytical insights due to access to all relevant data points within a single unified platform instead of having it spread out across departments or programs in different formats/locations creating inconvenience when trying to generate reports or analyze trends over time periods, etc.
Additionally, implementing nonprofit ERP software allows nonprofits to remain competitive in the marketplace by enabling them to better track donor contributions and grants, maintain accurate donor/volunteer information, and provide more effective human resources management capabilities.
ERP for non profits provides an integrated platform with a range of features that allow teams to improve employee scheduling, upgrade spend management, and manage budgets efficiently. With multiple programs all connected together, the right ERP system can streamline business process management and provide automated reporting tools to help teams gain better visibility into their operations.
With the right ERP software, your nonprofit can significantly lower operational costs while improving overall productivity resulting in a greater potential impact on the community you serve.
In this article, we'll explore the benefits of ERP software for nonprofits and how it can help them achieve their goals more efficiently.
Nonprofits: How ERP Can Streamline Operations and Reduce Costs
ERP systems have been widely adopted by both for profit and nonprofit organizations to streamline their operations, improve efficiency, and reduce costs.
For nonprofits, where every penny counts, the implementation of an ERP system can make a significant difference in their budget allocation and overall financial health.
In this part, we will explore the ways in which ERP can lower costs for nonprofit organizations and provide examples of how this technology has been successfully applied in the nonprofit sector.
Improved Financial Management
One of the primary benefits of ERP systems is that they centralize financial data, making it easier to track and manage finances. Nonprofits often struggle with budget management and tracking due to the complexity of their operations, such as managing timesheets and payroll, or multiple grants and donations. These tools can help nonprofits keep track of finances across different programs, grants, and funds. By automating financial management, nonprofits can reduce errors, increase accuracy, and optimize financial processes. This leads to improved financial transparency and accountability, which helps attract donors and sponsors, thereby reducing costs.
Example
Action Group implemented an ERP system that allowed them to centralize and track all of their employees' timesheets within one finance and payroll system. This led to a reduction in administrative costs, as they were able to eliminate the manual processing of over 600 timesheets by hand every two-weeks. The original process was also more difficult because most of their timesheets were hand written, making them difficult to read and requiring verbal clarification with staff to process. As a result, they were able to allocate more of their time towards what was important - working with their clients.
Streamlined Operations
Another benefit of ERP systems is that they provide a unified view of an organization's operations, including inventory, procurement, and supply chain management. This integration allows nonprofits to optimize their operations, reduce manual work, and eliminate redundancies. By automating routine tasks, such as order processing, purchase orders, and inventory management, nonprofits can reduce errors, increase productivity, and save time and money.
Example
The United Nations World Food Programme (WFP) implemented an ERP system that allowed them to optimize their supply chain management. They were able to track inventory levels, forecast demand, and manage distribution more efficiently. This led to a reduction in food waste, improved delivery times, and lower operational costs.
Increased Collaboration
ERP systems also facilitate collaboration and communication across an organization, enabling teams to work more effectively and efficiently. This collaboration leads to a better understanding of organizational goals and priorities, which improves decision-making and reduces the likelihood of duplicated efforts. By breaking down silos and promoting teamwork, nonprofits can reduce the time and effort required to achieve their objectives.
Example
Providence Child Development Society implemented an ERP system to address their need to collaborate in one platform for finance, payroll, and human resources functions. Before their move to Sparkrock 365, their systems were siloed which caused an extreme lack of communication among departments. Work was being duplicated, the workflows were subpar, and their KPIs were not being met.
Introducing a new ERP allowed Providence to streamline their workflows by reducing manual tasks, improve accuracy by cleaning up duplicate data, and ensure better decision-making as a whole.
This led to better communication, increased efficiency, and reduced administrative costs. By streamlining their operations, they were able to allocate more resources to their core mission of responding to emergencies and disasters.
Better Reporting and Analytics
Finally, ERP systems provide better reporting and analytics capabilities, allowing nonprofits to make data-driven decisions. By providing real-time insights into organizational performance, nonprofits can identify areas for improvement and adjust their strategies accordingly. This leads to better resource allocation, reduced waste, and improved overall efficiency.
Example
The Canadian Museum of History implemented an ERP system that allowed them to analyze their operations and performance.
Reporting is important in many organizations, and for the Canadian Museum of History it was long and painful. Their legacy system made reporting a laborious and intensive process since it wasn't user friendly. The data collected through PDFs needed to be manually inputted into excel before it could become usable data for decision making. Their move to Sparkrock made reports easy - core and non-core users had the ability to view reports at ease. The stress of quarterly reporting was removed when the old ERPs 3 person, 2 day job occurred within a single click, and in less than a minute. The data was easy to access, had accurate up-to-date figures, and allowed end-to-end visibility for staff.
ERP Spotlight: Key Features To Manage Donor Relationships and Increase Efficiency For Small Businesses in Life Sciences
Enterprise Resource Planning (ERP) systems are quickly becoming a necessity for small businesses in the life sciences sector. With increased regulatory requirements and the need to manage donor relationships effectively, an ERP system can provide an integrated platform with real-time data that streamline operations and better support business needs.
An ERP system allows companies to use one system across all their departments, creating a seamless integration between those departments. Using this type of system, companies can improve visibility into their operations and give teams the ability to access data in real time, leading to greater efficiency. An effective ERP system can also provide automated tools for managing case management, tracking donations, generating reports, automating document processing, and more.
For businesses in life sciences, using an ERP system provides a comprehensive approach to managing donor relationships and ensuring efficient data access. With these key features, businesses can increase efficiency while meeting requirements without stretching their resources too thin.
Unleashing the Power of ERP: How Enterprise Resource Planning Software Can Turbocharge Your Business Productivity
The Problem: Inefficient and Fragmented Business Processes
Are you tired of dealing with siloed data, manual data entry, and slow decision-making? In today's fast-paced business environment, these inefficiencies can put you at a disadvantage. The lack of integration between different business functions such as sales, finance, operations, and human resources can result in poor coordination and communication.
The Solution: A Comprehensive ERP System
Enterprise Resource Planning (ERP) software provides a comprehensive solution to integrate different business processes into one centralized system. An efficient system can streamline your operations, automate routine tasks, and provide visibility into business performance. These solutions can be customized to suit the specific needs of your business, and they are scalable to support your growth.
Benefits of ERP Software for Productivity
Enhanced Efficiency: ERP software can automate routine tasks, eliminate manual data entry, and reduce the likelihood of errors. This can free up your employees' time to focus on more strategic tasks and improve the overall efficiency of your business.
Improved Collaboration: With ERP software, different business functions can access the same data in real-time, providing better collaboration and coordination. This can help break down silos and improve communication across different departments.
Better Decision-Making: ERP software provides visibility into business performance, allowing you to make data-driven decisions. You can track key metrics such as revenue, expenses, inventory levels, and customer behavior, which can help you identify opportunities and challenges.
Enhanced Customer Experience: ERP software can help you provide a better customer experience by streamlining processes such as order processing, billing, and customer support. This can result in faster response times and improved customer satisfaction.
Implementation Challenges to Consider
While ERP software can provide significant benefits to your business, it's important to consider the challenges of implementing such a system. These challenges include selecting the right software, ensuring data security and privacy, and training your employees. ERP implementation requires careful planning and execution to ensure success.
ERP - Your Ultimate Productivity Booster
In conclusion, ERP software can provide significant productivity benefits to your business by streamlining operations, improving collaboration, and providing real-time visibility into business performance. While implementation challenges exist, the benefits of ERP far outweigh the costs. By implementing an ERP system, you can unleash the power of your business and achieve greater success.
ERP Solutions For Nonprofits: Automate Gifts, Manage Budgets, and Gain Efficiency
Enterprise Resource Planning (ERP) software solutions are now becoming a necessity for non-profit organizations. With the need to manage donor relationships and track expenses effectively, it's important to implement a unified platform that streamlines operations and better supports business needs.
ERP systems can provide a variety of functionality for non-profits, such as grant management, sales management, cash management, asset management, and program management. They allow teams to automate gift entry and donor tracking, as well as handle project accounting and fund accounting. Additionally, an effective ERP system can also provide automated tools for reporting, spending management, talent management, funding allocation, cash flow forecasting, and content management.
For charitable organizations, choosing the right ERP solution is essential for maximum efficiency.
Learn more about how Sparkrock is helping non-profit organizations streamline workflows, maximize efficiency, and improve collaboration today by booking a demo with our team.